Despite the name, Surgeon Simulator 2013 is not a new yearly entry into an "x simulator" series such as Flight Simulator or Train Simulator. In fact, I went into this game not really knowing what to expect at all.
The result was some of the best fun I have had in a game in a long time. You play as a completely functionally-inept person who apparently doesn't know how to use his fingers and arms properly, as he attempts to perform surgery on unsuspecting and unfortunate patients. A, W, E and R control the fingers, the spacebar controls the thumb, and the mouse controls the arm. Somehow you must perform heart transplants, kidney transplants and brain surgery.
The main menu opens up in a reception area. To begin the surgeries you must choose an option on a notepad on a table in front of you with your arm. As I attempted to do this I inadvertently knocked almost everything off the table as my arm flailed about. A computer to my left was displaying instructions on how to use the controls, but I accidentally hit a button on front of the computer with my hand and a floppy disk popped out, and the instructions disappeared. I tried to no avail to get the disk back in.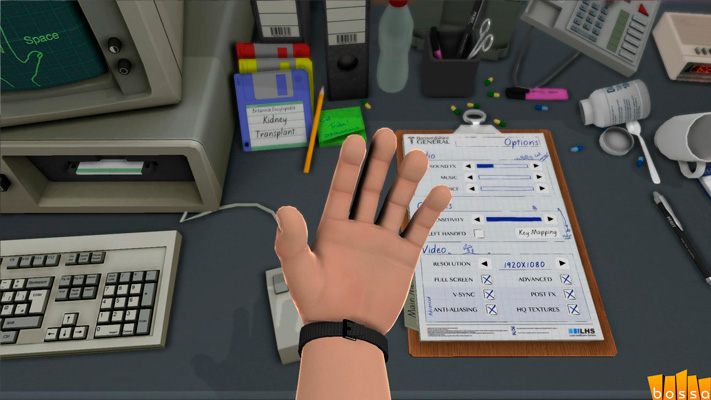 When I finally got into the heart surgery, I was provided with some tools to carefully remove the heart, and a new heart to put in. I did not know of any way to get behind the rib cage without completely destroying it, so I smashed it with a hammer. I tried to get the heart out but I couldn't manoeuvre my hand to get past the littered fragments of rib cage that had settled in the patient's chest cavity. Eventually, and after my digital watch somehow got stuck under the stomach, the patient died of blood loss.
What would normally be completely horrific was absolutely hilarious. The game does not take itself seriously in any way, and playing this game with other people around, egging you on, is quite possibly some of the most fun you could have. There are achievements for drugging yourself, answering the phone, and sticking your middle finger up at the patient.
Do not go into this game expecting actual, proper surgery. Instead, expect to be in some of the most ridiculous situations imaginable in a game that is quite unlike anything ever made before.