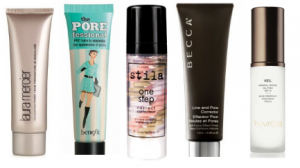 During the Summer, more than ever make-up seems to begin to run off your face or become blotchy and creased within a few hours. Save your face and Summer style with a good primer! Primers act as a base to your foundation, think of them as almost like a glue or protection barrier between your skin and your make-up! This keeps excess oils or sweat from your skin breaking through and destroying your foundation. When choosing a primer, remember to keep in mind your skin type as there are many different versions from different brands that cater to all skin (oily, normal, dry, combination, sensitive). You can also purchase primers that have a certain colour or shade to them for correcting unwanted tones in the skin (green for combating redness, peach to correct blue tones, etc). Primer should be applied after your normal skin care routine and moisturizer, but before your make-up. Not all contain SPF so remember to apply that before the primer as well if you're going out in the sun!
#1 – Laura Mercier Foundation Primer, $45.00, www.adorebeauty.com.au or Myer or David Jones department stores
Perfect for all skin types and tones, the Laura Mercier Foundation Primer is a cult product and a favourite of make-up artists and lovers alike! The formula is a creamy gel that feels lightweight and refreshing on the skin and is invisible to the eye. While Vitamins A, C, & E provide your skin with antioxidants and help to protect the skin from the harmful aging effects of the environment, the gel formulation acts as a glue to keep your make-up in place all day long. You can also purchase different Laura Mercier primer formulas including oil-free, radiance, mineral and hydrating versions.
#2 – Benefit's POREfessional, $53.00, www.adorebeauty.com.au or Myer or David Jones department stores
This primer is perfect for those who struggle with enlarged or blocked pores as, with its light-weight balm formula, Benefit's POREfessional helps to minimise their appearance on the surface of your skin. Providing a silky, translucent canvas to work on, this primer is a great one for the handbag as it can also be used over make-up if you feel your skin is starting to get a little oily throughout the day.
#3 – Stila One Step Correct, $58.00, www.meccacosmetica.com.au
With an innovative, triple-swirled helix colour correcting design, this primer doubles as a serum and instantly helps to cover skin impurities and imperfections. The One Step Correct brightens, colour corrects and neutralises the skin, giving you a perfect glow. The formula is creamy and light-weight and will not clog your pores or settle into any fine lines, and so is appropriate for everyone and all skin types.
#4 – BECCA Line and Pore Corrector, $44.80, www.adorebeauty.com.au or David Jones department stores
Perfect for more mature skins, the BECCA Line and Pore Corrector minimizes the appearance of lines while also visibly refining large pores due to its soft-focus effect. Great for sensitive skins as it is packed full of antioxidants and anti-inflammatory ingredients, this primer is incredibly versatile as it can also be used as an eye and lip primer, and over make-up throughout the day to reduce unwanted shine.
#5 – Hourglass Veil Mineral Primer SPF 15, $79.00 (or $25.00 for a 10ml travel size), www.meccacosmetica.com.au
For those with dehydrated skin, this primer will be a blessing! This clean, satin-finish, mineral primer restores moisture to dehydrated skin while providing protection from the sun and helping to minimize excess oil and shine. By filling in lines and pores, this primer provides a seamless and flawless base for foundation, completely justifying it's price. Oil-free, fragrance-free and paraben-free, this one is also great for sensitive skin types. The Hourglass Veil Mineral Primer is also water resistant and contains an SPF of 15, making it perfect for a Summer day at the beach!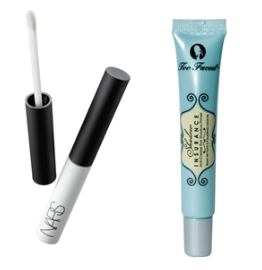 If you find that your eye make-up never stays in place, isn't vibrant or smudges throughout the day, you may want to invest in a good eye primer. Two of the best on the market are:
#1 – NARS Pro-Prime Smudge Proof Eyeshadow Base, $39.00, www.meccacosmetica.com.au
A lightweight eye primer that applies white and dries clear, the NARS Pro-Prime keeps your cream and powder eye colour or liner staying fresh and perfect throughout the day and night. Featuring a unique polymer and mineral powder blend, this eye primer really is like a glue for your eyeshadow!
#2 – Too Faced Shadow Insurance, $26.95, www.meccacosmetica.com.au
Similar to the NARS, this primer will keep your eye make-up fresh and perfect throughout the entire day and night. Designed specifically to prevent creasing and smudging, this primer will create a secure barrier between your skins naturally produced oils and your eye make-up while also evening out your skin tone.